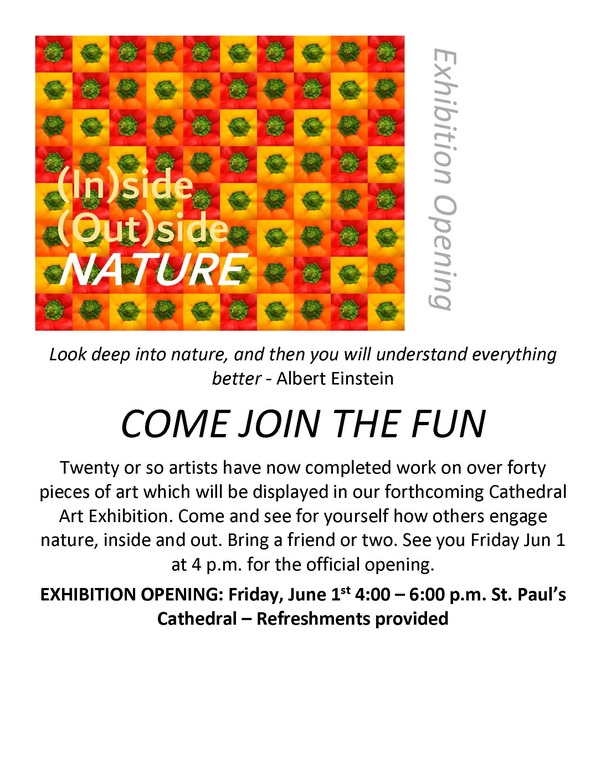 What a great time we had Friday night
at the launch of the Art Exhibition, Inside, Outside Nature at St. Paul's Cathedral in Kamloops.
Some twenty-five or so artists produced and shared over forty works, each a product of their own imagination and in many cases specific faith story or justice concern. Human figures, creation scenes, statements of justice and peace, architecture, there is something for everyone here.
Media included glass, painting, sketching and drawing, spoken word, basketry, photography, print making, pastels, and many pieces in fibre.
This is the third such exhibition at St. Paul's in recent years, each building upon the former attracting a larger and more broad selection of artists and styles. All artists are directly or by relation connected with St. Paul's.
We welcomed well over seventy visitors in a lively two-hour reception from which folks just didn't seem to want to leave.
A catalogue will be published shortly, and yes, visitors are welcome to drop by in the next few weeks, Tuesday through Thursday during office hours. Call the office to confirm someone is around to let you in the door.
And let's all give praise to God our Creator, the artist of our lives and loves. And thanks to all who contributed and all who visited. This exhibition is yet another example of what makes St. Paul's such a special faith community. We dare to share, and yes, you can hear it coming, WE CARE.
Cooks-jem