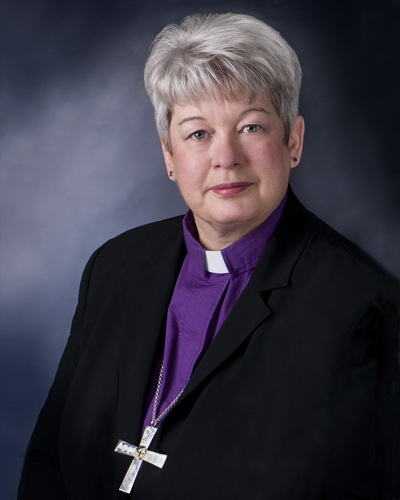 Barbara Andrews is an Anglican Bishop Suffragan in the Anglican Church of Canada. She is responsible for the newly named Territory of the People (formerly the Anglican Parishes of the Central Interior) and reports to the Metropolitan of British Columbia and Yukon.
Formerly Director of the Sorrento Retreat and Conference Centre in British Columbia, she was elected Bishop Suffragan on 30 June 2009 and was consecrated at St Paul's Cathedral, Kamloops, on October 18, 2009.
Earlier ministry included street ministry for four years in an inner city parish in Winnipeg. Ever since she was ordained a priest in 1998, Bishop Andrews has always served the Anglican Church of Canada "kind of on the fringe of the church." It is not surprising that given her full-Status heritage -her father was a Cree from northern Alberta - that First Nations ministry and connections remains a priority.
One of Bishop Andrews' strongest passions has been social justice ministry. "How do we feed the hungry? How do we help folks who need our assistance?" are questions she poses almost daily. When she is not dealing with 18 parishes (including 35 congregations) she enjoys reading, gardening, cooking, and "relaxing in God's creation."